SOUTH BELOIT FIRE DEPARTMENT
"A System Dedicated To Saving Lives"
CHIEF DAVENPORT IS RETIRING
Chief Michael Davenport, has served as chief of the South Beloit Fire Department for the last three years, he has announced he will retire at the end of August. Chief Davenport has been with the department for 33 years. He first joined the department in 1987 as a volunteer firefighter at the age of 18. Two years later, he became a full-time firefighter with the department. He served as assistant fire chief for 18 years. He became interim fire chief in June of 2017 when Fire Chief Ken Morse retired after 44 years with the department. Davenport was sworn in as the new chief of the South Beloit Fire Department on Aug. 21, 2017.
Brian Hedrington, who serves as health and public safety commissioner on the city council, will be in charge of a search for a new chief for the fire department.
Fireworks
Each July 4th, thousands of people, most often children and teens, are injured while using consumer fireworks. Despite the dangers of fireworks, few people understand the associated risks - devastating burns, other injuries, fires, and even death.
Watch: Attending a professional fireworks show may not be possible this year, but that doesn't change the fact that consumer fireworks are dangerous.

A three-year old boy, Michael Shannon, was killed when a legal consumer firework struck him in the head during a July Fourth family celebration. Michael's parents and sister talk about their memories of Michael, the pain they've endured in the years since his death, and their hope that parents will understand the danger of consumer fireworks.

NFPA's Dan Doofus urges people not to use consumer fireworks because they are too dangerous. Fireworks are responsible for thousands of fires and injuries each year.
Fireworks fire & injury facts
Fireworks started an estimated 19,500 fires in 2018, including 1,900 structure fires, 500 vehicle fires, and 17,100 outside and other fires. These fires caused five deaths, 46 civilian injuries, and $105 million in direct property damage.

In 2018, U.S. hospital emergency rooms treated an estimated 9,100 people for fireworks related injuries; half of those injuries were to the extremities and 34% were to the eye or other parts of the head. Children younger than 15 years of age accounted for more than one-third (36%) of the estimated 2018 injuries. These injury estimates were obtained or derived from the U.S. Consumer Product Safety Commission's 2018 Fireworks Annual Report by Yongling Tu and Jason Ng.
Source: NFPA's Fireworks Fires and Injuries report
Keep Your Cool in Hot Weather!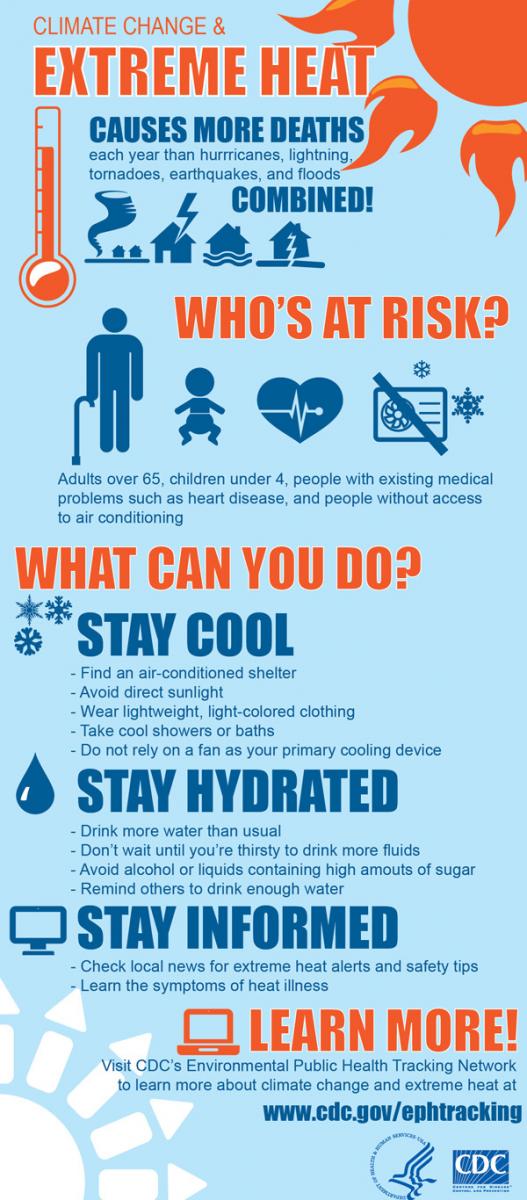 Learn about heat-related illness and how to stay cool and safe in hot weather.
High temperatures kill hundreds of people every year. Heat-related deaths and illness are preventable, yet more than 600 people die from extreme heat every year.
Take measures to stay cool, remain hydrated, and keep informed. Getting too hot can make you sick. You can become ill from the heat if your body can't compensate for it and properly cool you off. The main things affecting your body's ability to cool itself during extremely hot weather are:
High humidity. When the humidity is high, sweat won't evaporate as quickly. This keeps your body from releasing heat as fast as it may need to.

Personal factors. Age, obesity, fever, dehydration, heart disease, mental illness, poor circulation, sunburn, and prescription drug and alcohol use all can play a role in whether a person can cool off enough in very hot weather.
People age 65 and older are at high risk for heat-related illnesses.
Those who are at highest risk include people 65 and older, children younger than two, and people with chronic diseases or mental illness.
Closely monitor people who depend on you for their care and ask these questions:
Are they drinking enough water?

Do they have access to air conditioning?

Do they need help keeping cool?
People at greatest risk for heat-related illness can take the following protective actions to prevent illness or death:
Stay in air-conditioned buildings as much as you can. Contact your local health department or locate an air-conditioned shelter in your area. Air-conditioning is the number one way to protect yourself against heat-related illness and death. If your home is not air-conditioned, reduce your risk for heat-related illness by spending time in public facilities that are air-conditioned and using air conditioning in vehicles.

Do not rely on a fan as your main cooling device during an extreme heat event.

Drink more water than usual and don't wait until you're thirsty to drink.

Check on a friend or neighbor and have someone do the same for you.

Don't use the stove or oven to cook—it will make you and your house hotter.
Even young and healthy people can get sick from the heat if they participate in strenuous physical activities during hot weather:
Limit your outdoor activity, especially midday when the sun is hottest.

Wear and reapply sunscreen as indicated on the package.

Pace your activity. Start activities slow and pick up the pace gradually.

Drink more water than usual and don't wait until you're thirsty to drink more. Muscle cramping may be an early sign of heat-related illness.

Wear loose, lightweight, light-colored clothing.
If you play a sport that practices during hot weather, protect yourself and look out for your teammates:
Schedule workouts and practices earlier or later in the day when the temperature is cooler.

Monitor a teammate's condition, and have someone do the same for you.

Seek medical care right away if you or a teammate has symptoms of heat-related illness.
Everyone should take these steps to prevent heat-related illnesses, injuries, and death during hot weather:
Stay in an air-conditioned indoor location as much as you can.

Drink plenty of fluids even if you don't feel thirsty.

Schedule outdoor activities carefully.

Wear loose, lightweight, light-colored clothing and sunscreen.

Pace yourself.

Take cool showers or baths to cool down.

Check on a friend or neighbor and have someone do the same for you.

Never leave children or pets in cars.

Check the local news for health and safety updates.
Smoke Detector Program
The South Beloit Fire Department is helping residents in South Beloit make their families safer from the dangers of smoke and fire thanks to First Alert.
In June, First Alert, the most trusted brand in home safety, launch its "60 Years of Thank Yous" sweepstakes to mark the 60th anniversary of the company's founding. South Beloit Fire Department is one of 60 fire departments randomly selected from hundreds of entrants to win 60 smoke alarms to help with community risk reduction initiatives.
If you are having issues with a smoke detector in your home and it is not an emergency, please call the fire department non-emergency number at 815-389-3097 and we will come to your home with a new smoke detector free of charge. If you smell smoke or see fire, please exit your house immediately and call 911.